We have 17,237 edits to 1,563 articles and 1,050 images on this wiki.
Hello! Thanks for stopping by! This wiki is dedicated to Fanon of the series "PriPara/PuriPara".
Here you can find or make a multitude of things, ranging from fan-characters/FCs/OCs, fan-items, coords, brands, and so much more!  Have a wonderful time as you explore the brand new idol world. But remember to follow the rules and if you need any help, contact an Admin. 
Currently looking for those with design or talents of any kind that could provide useful!
If you do not follow them expect to be paid a visit from Mirei, or even the scary Headmistress Gloria! 
Please be kind to your fellow editors/wiki members.
Take care not to upload any adult content and foul language. 
Use your best grammar and wording for articles. It makes them look nicer and people are more likely to respond to nice, understandable writing. 
No flaming/spamming/harassement towards members or their creations. Only Creative-Critisism is allowed here.
Only add original characters here, please do not take an exsisting real character and modify them. 
Make sure to properly categorise your pages so that they can be found easier, more on the topic can be found here.
Please do not make other peoples articles for them or claim them as your own unless given permission.
If someone ends up taking a name you were going to use (say you both just have a character with a singular name "Annie"), include a (username here) to the end of the pages title.  
HAVE FUN!
(If you wish to be included, please send a message to an Admin first)

The wiki to begin it all, we are proud to associate with it and be a partner. For all Official PriPara related activity, please pay it a visit!
Click here to visit Winterbells1 wiki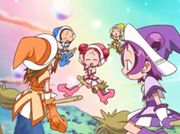 Also feel free to check out another Fandom wiki ran by by the Founder/Admin of this place for the series "Ojamajo Doremi".