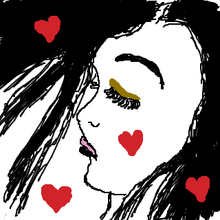 Hi! I am an admin on this wikia, so feel free to ask me for anything. Also, please remember to read the rules and check out the templates before editing.
I am also an admin of the PriPara wiki, and Chris (Chrismh) showed us this wiki and it brought me here. I don't know if I will do a lot of adding fandom stuff (oh, stop saying that, you know you will), but I will help enforce the rules, edit grammar, organize, etc.
I also LOVE to draw, so if you have any requests feel free to ask. I know some of my other work sucks, but its only because they are drafts and unofficial outlines for me to get a picture of how I want it to look.
On my drawings, I like to leave a messy signature saying "Ribbon". Please note my signature is messy ON PURPOSE.
Community content is available under
CC-BY-SA
unless otherwise noted.